For a limited time, you can save $500 via Brilliant Distinctions® when you purchase a "Like it" package (6 cycles) or more in a single transaction
COOLSCULPTING BACKSTORY AND KRCH AESTHETIC MEDICINE
CoolSculpting® is the most recognized and most successful non-invasive technique for permanent fat removal. We can sculpt your body, even stubborn areas, without surgery or downtime. Cryolipolysis is the destruction of fat cells using carefully applied cold technology to permanently remove fat cells. CoolSculpting® technology was developed after 2 Harvard MD's noticed that children that sucked on popsicles permanently loss the fat cells in their cheeks. No other tissue was adversely affected by the cold. Destroyed fat cells are then easily absorbed by the body.
Located in North Central Phoenix, Arizona, krch Med Spa under the direction of Dr. Ryan Krch N.M.D., provides body sculpting by Coolsculpt®. Dr.Ryan started with body sculpting over 15 years ago using mesotherapy. CoolSculpting® is non-invasive and can be used in large areas like inner and outer thighs, abdomens, and flanks. Coolsculpt® works for smaller areas too like under chins, arms, bra fat, and banana rolls. Krch Med Spa has the latest Coolsculpt® device which provides shorter procedure times and more effective results. Coolsculpting® is FDA cleared for fat removal in the areas noted and for skin tightening and permanent fat removal under the chin. We can sculpt your chin and create a stunning new neckline. What area are you most excited about changing?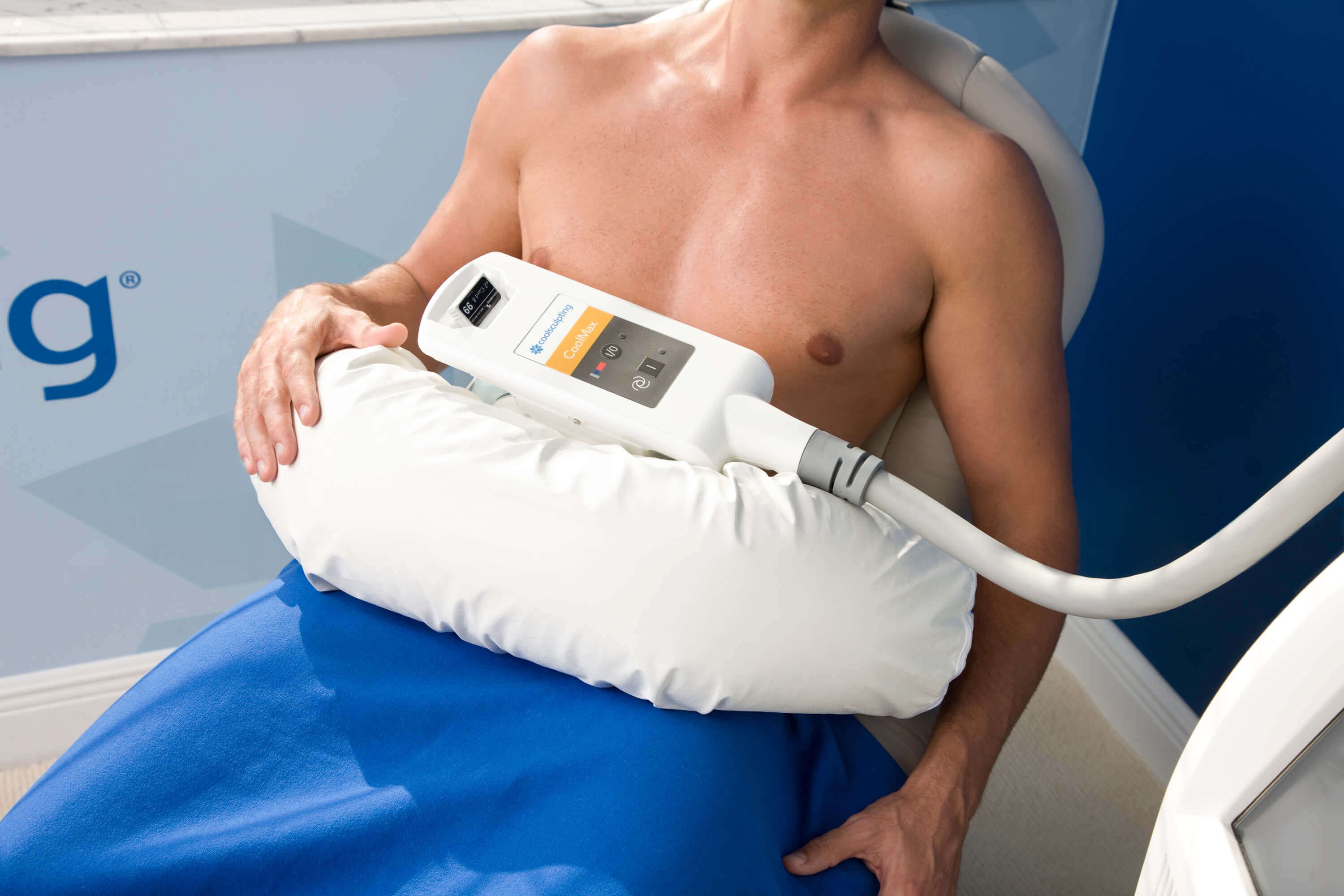 BODY SCULPTING SYNERGISM: FIRE AND ICE
Dr. Ryan is always looking for synergism. He combines treatments to get the best effect with the latest aesthetic technologies. Radio frequency (RF) body sculpting reduces fat cell size and is amazing at tightening skin. RF body sculpting is a warm technology and feels like a warm stone massage. Whenever volume is decreased, like in cryolipolysis, the overlying skin can become loose. This is an aesthetic concern for older individuals or individuals that have lost skin structure. RF body sculpting combined with Coolsculpting® provides the fastest results and the best skin-tightening so as your fat shrinks, your skin tightens up. These combined synergistic procedures are Fire and Ice Body Sculpting. Krch Med Spa provides both at a cost that most clinics and med spas charge for just Coolsculpting®. We create value for our patients. Schedule a consultation to learn more about Cryolipolysis, CoolSculpting®, RF and the ultimate combination of these, Fire and Ice Body Sculpting.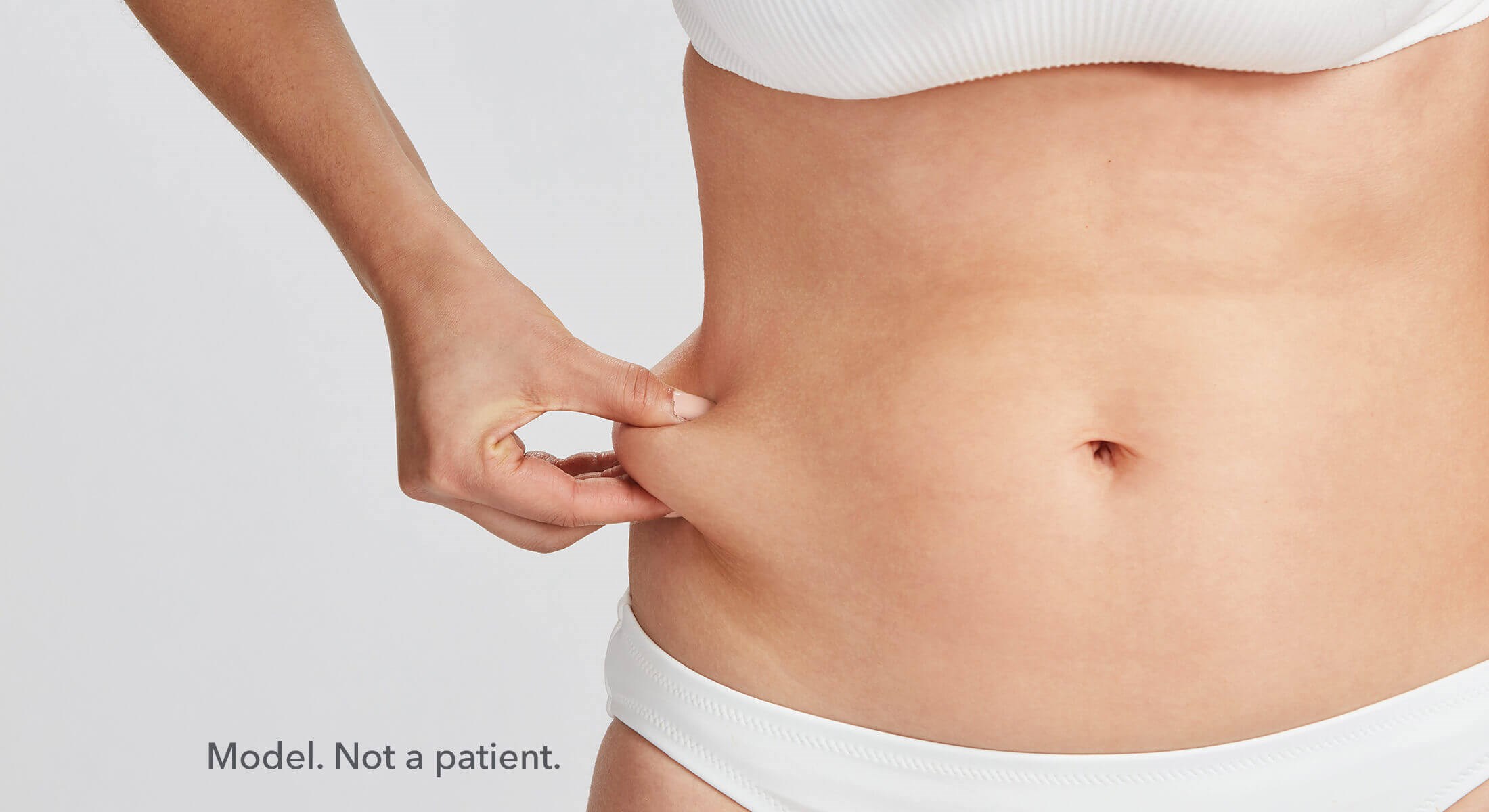 CoolSculpting Ideal Candidates
While this noninvasive technique has proven successful for individuals of all ages, weights, and shapes, those candidates likely to get the most benefit from CoolSculpting® are:
Not significantly overweight

Have stubborn areas of loose fat that do not respond to diet and exercise

Intimidated by or are not ideal candidates for surgery

Have realistic expectations for the outcome of their treatment

Want zero downtime and amazing results
CoolSculpting Procedure Technique
After your consultation with Dr. Ryan to design your unique treatment plan, your procedure will be scheduled. We can typically start you right after your consult. At your appointment, a gel pad and the CoolSculpting® handpiece will be applied to the predetermined area, and controlled cooling will be initiated. The cooling, delivered through the handpiece, will target and freeze the fat cells. It is not uncommon to feel coolness while initially receiving treatment. The cold sensation quickly fades as the area becomes numb. The handpiece uses mild suction to pull the targeted fat cells in so you should feel minor tugging or pinching. These are normal sensations and fade quickly.
As CoolSculpting® is noninvasive, you can return to standard activities immediately after treatment. Side effects of the procedure include bruising, swelling, redness, numbness and localized soreness can last 2-3 weeks. You can see results in as little as 2-3 three weeks, with the most impressive results appearing about 90 days after your CoolSculpting® treatment.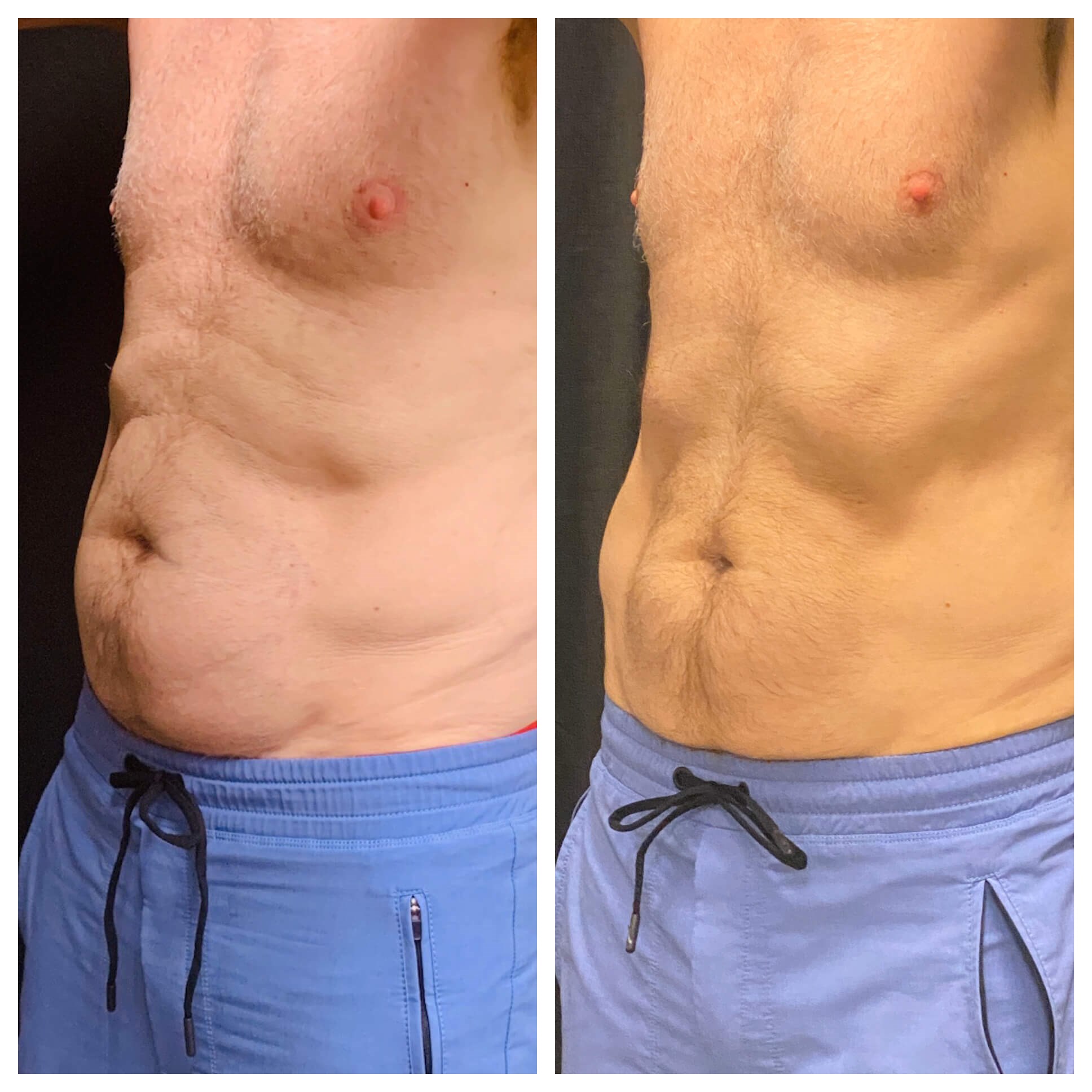 Coolsculpting is permanent non-surgical fat reduction with no down time. It is comfortable, incredibly effective, and fast compared to surgical fat reduction.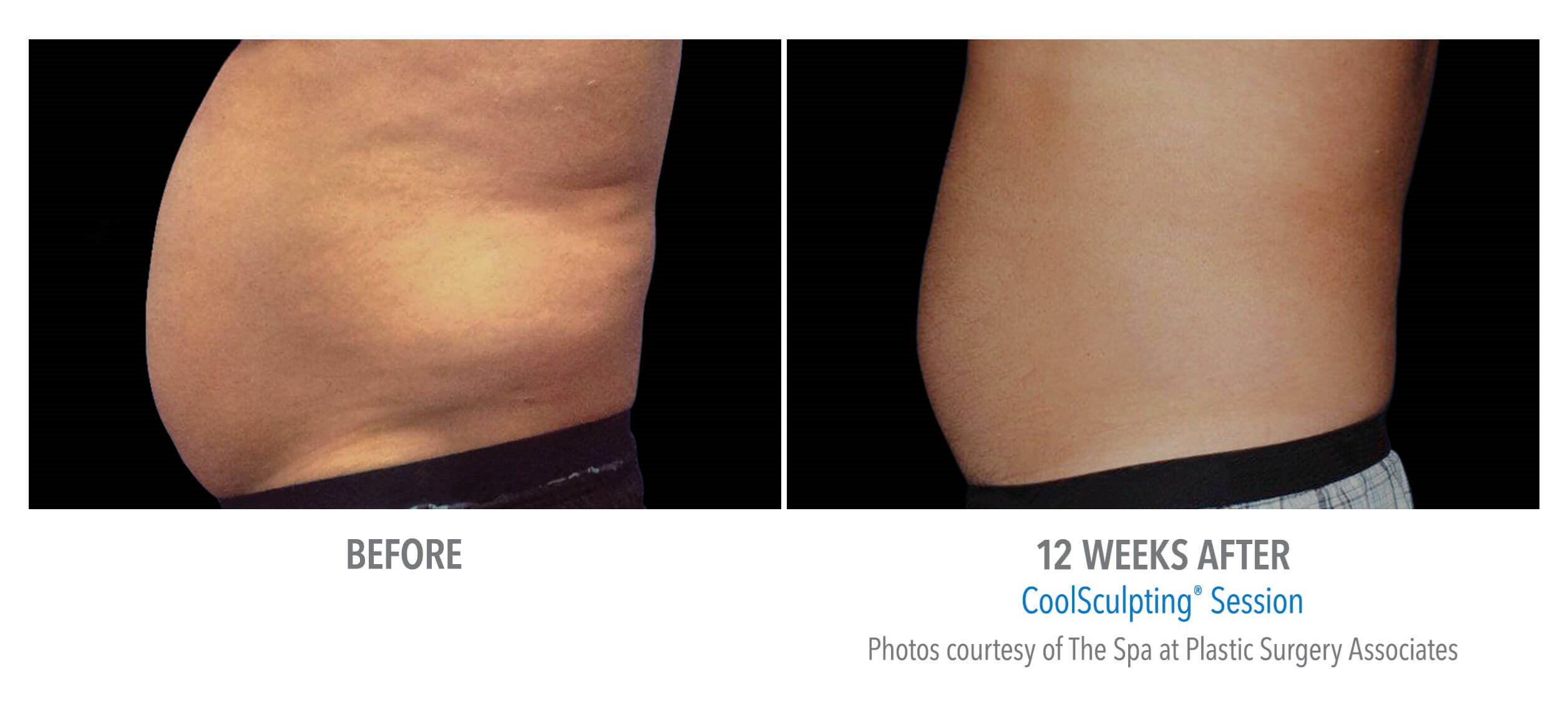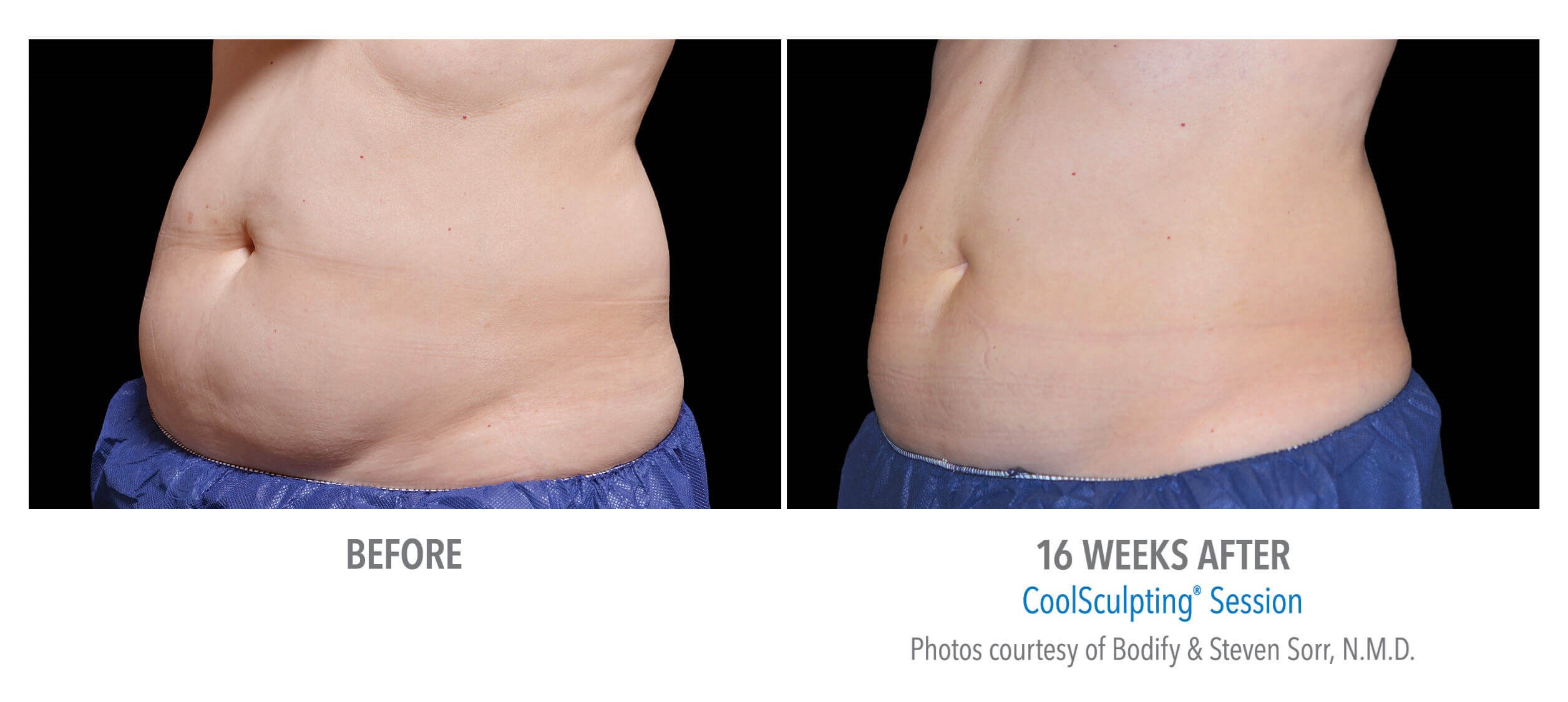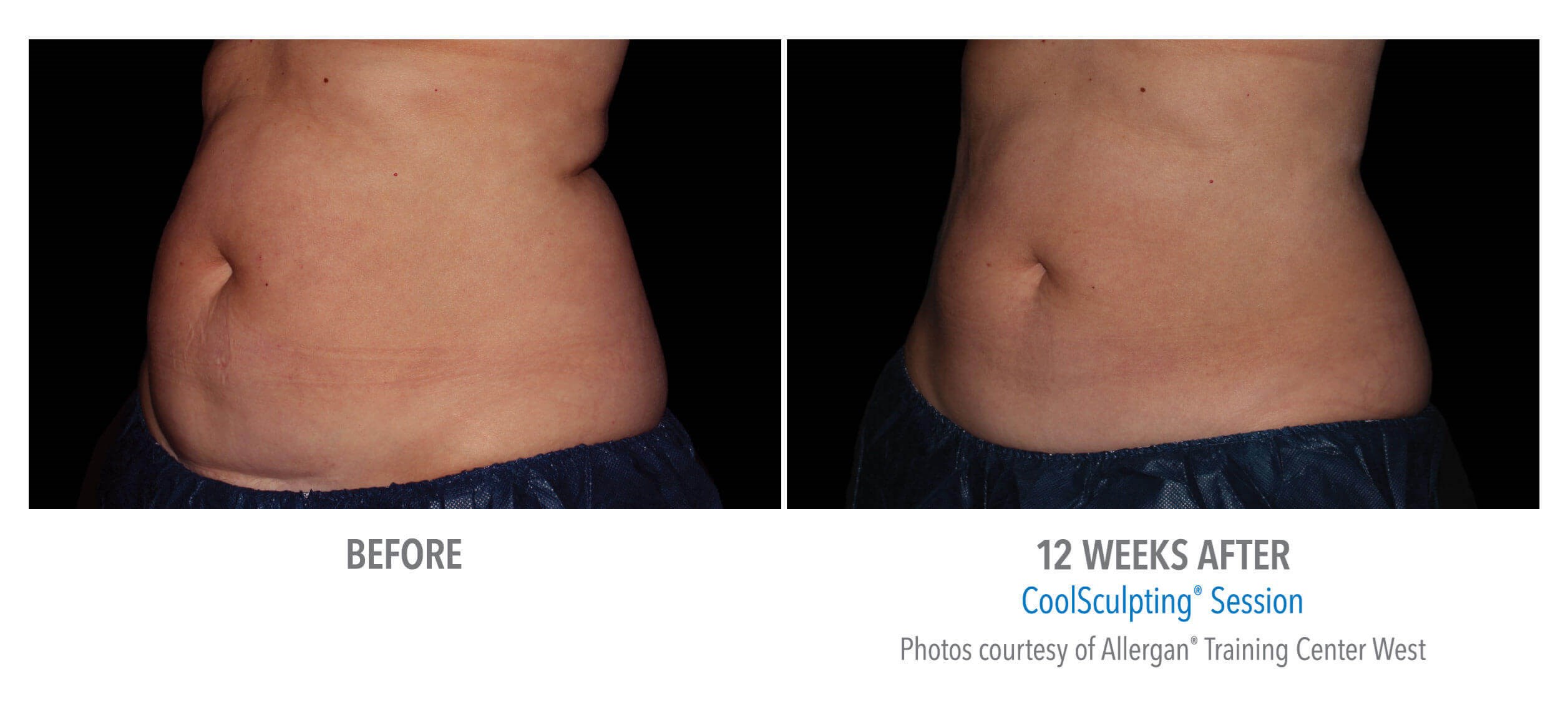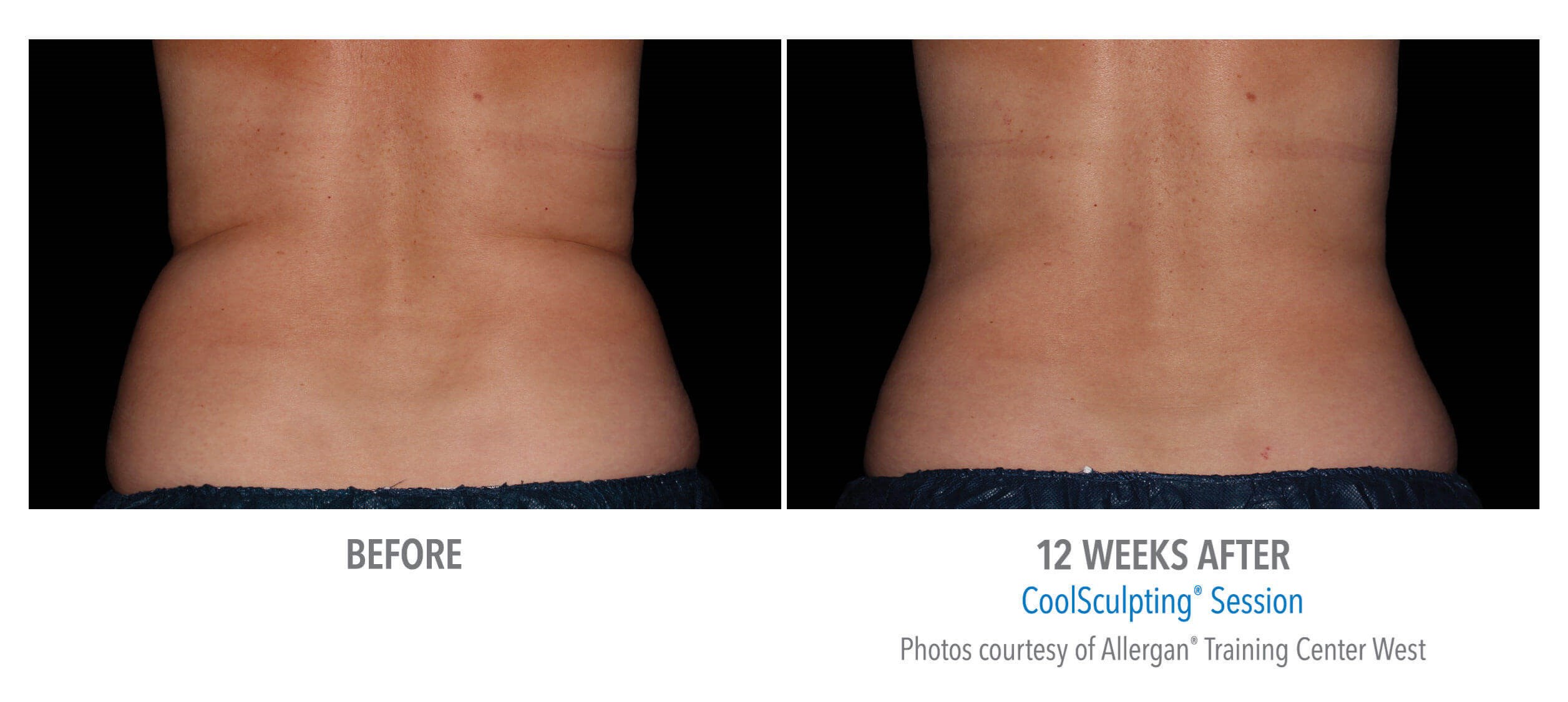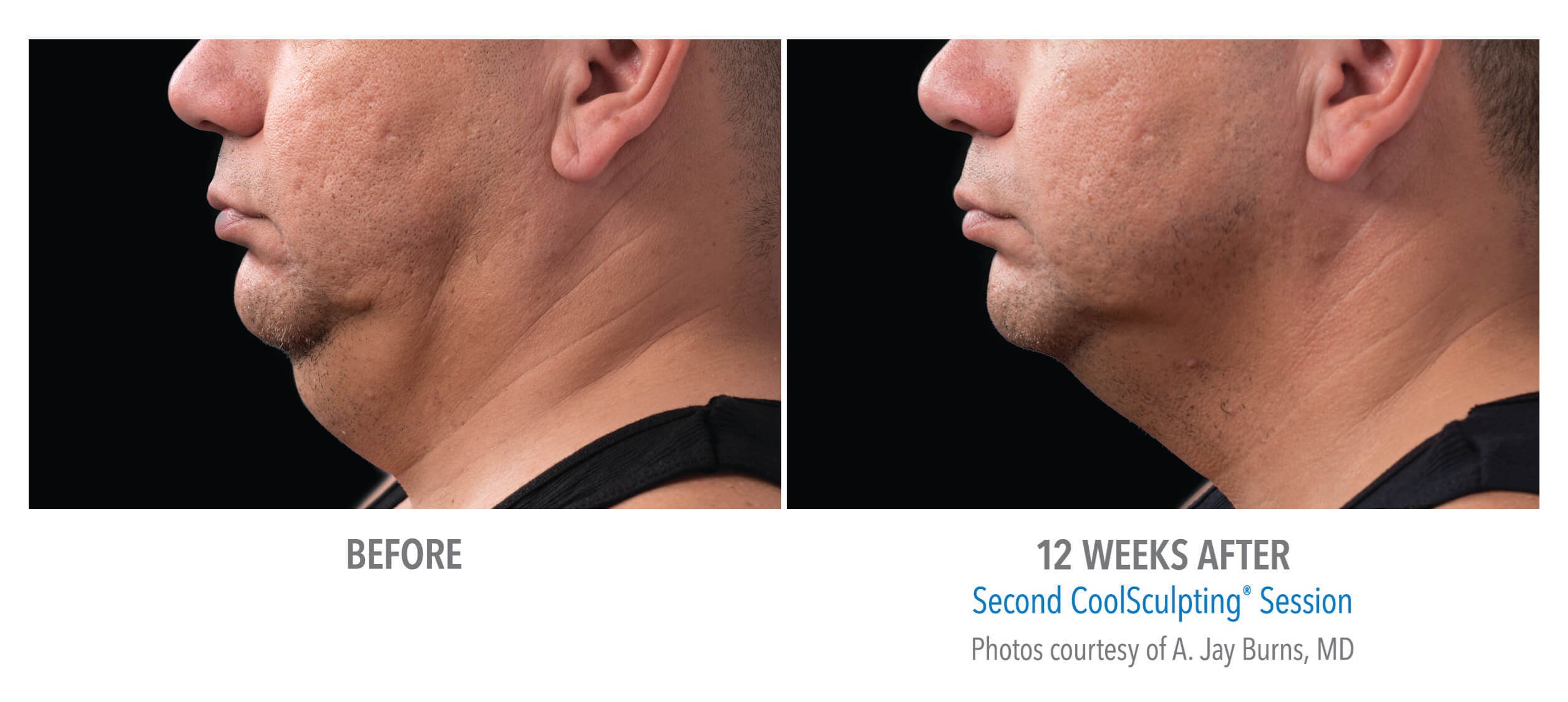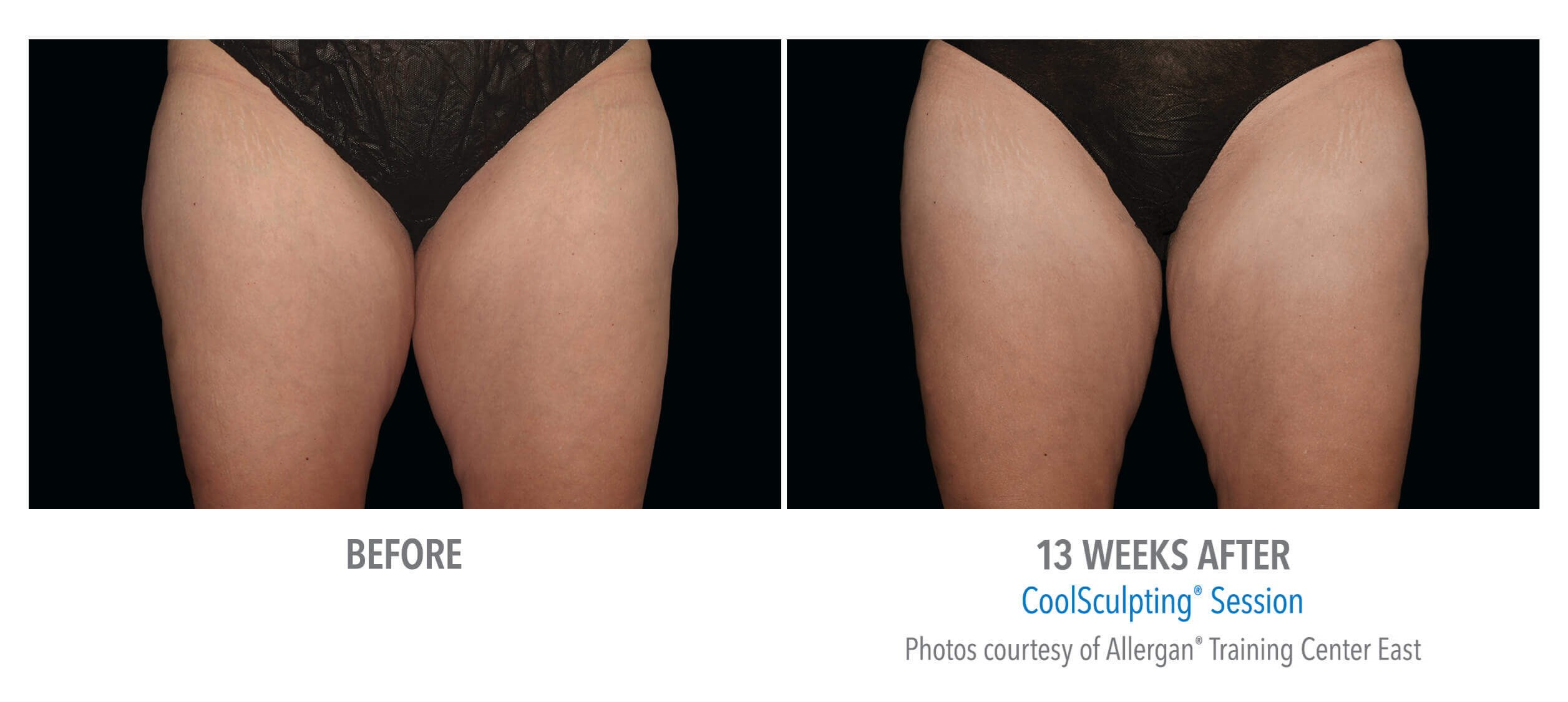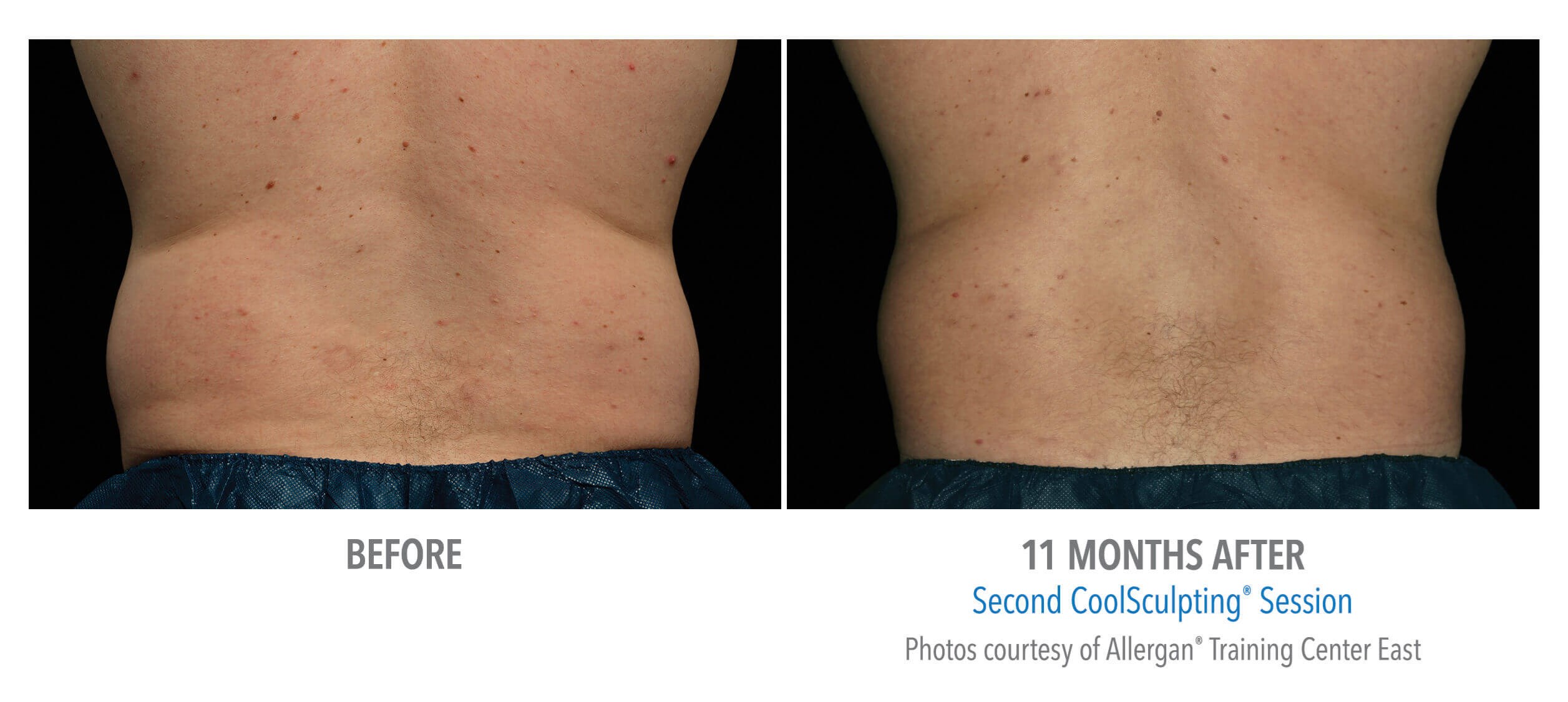 How much does CoolSculpting cost?
The cost of CoolSculpting® depends on the number of treatments and areas needed to meet your body sculpting expectations. During your consultation, we will discuss your aesthetic goals to choose the best treatment plan for you.
How does CoolSculpting® work?
CoolSculpting® works through the controlled and precise application of cold temperature to permanently remove targeted fat cells. Essentially, it freezes the fat cells until they die. The cells are broken down by the body and disposed of through natural functions.
Is CoolSculpting® safe?
CoolSculpting® is a nonsurgical, external treatment in which the device is simply applied to the skin's surface. All procedures involve some risks and we discuss these with you during your consult. With this procedure, there's no need for a recovery period. You may experience some slight swelling, bruising, numbness, and redness immediately after treatment, but this generally only last 1-3 weeks.
How many treatment sessions will I need?
The number of treatments needed to reach your desired results will be decided during your initial consultation and follow ups. For some patients, only one treatment is enough, but other patients may need more sessions depending on the volume of the area treated.
Do the fat cells grow back?
Each of us is genetically programmed to have a set number of fat cells and this does not change once we are adults. The Coolsculpt® destroyed fat cells are gone forever! Some fat cells are left behind. These remaining fat cells can grow if you gain weight. The more rounds of Coolsculpting® you have the less remaining cells there are that could increase in size with weight gain. If you maintain your weight within 5-10 pounds of your weight at the time of your procedure, you can retain the slimming effect of the procedure. You can also have additional rounds of Coolsculpting® to remove the amount of remaining fat cells. To maintain optimal results, it is recommended that you adhere to a healthy diet and exercise routine.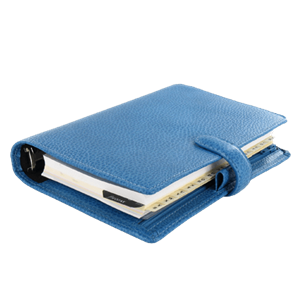 Plan Your Procedure
Recovery Time

None

Average Procedure Time

1 – 2 Hours

Procedure Recovery Location

Outpatient
Contact Us
CoolSculpting What to Expect
There is no "perfect" body and we all have things we would love to change, like stubborn deposits of fat that do not respond to diet and exercise. Krch AESTHETIC MEDICINE is proud to offer Phoenix, AZ patients CoolSculpting® and Fire and Ice treatments to reduce areas of stubborn fat without surgery for a slimmer, smoother shape. Schedule a free CoolSculpting® consultation with Dr. Ryan Krch N.M.D. to see if you are a candidate.
COOLSCULPTING® USES AND IMPORTANT SAFETY INFORMATION
Uses
The CoolSculpting® procedure is FDA-cleared for the treatment of visible fat bulges in the submental (under the chin) and submandibular (under the jawline) areas, thigh, abdomen and flank, along with bra fat, back fat, underneath the buttocks (also known as banana roll) and upper arm. It is also FDA-cleared to affect the appearance of lax tissue with submental area treatments. The CoolSculpting® procedure is not a treatment for weight loss.
Important Safety Information
The CoolSculpting® procedure is not for everyone. You should not have the CoolSculpting® procedure if you suffer from cryoglobulinemia, cold agglutinin disease, or paroxysmal cold hemoglobinuria.
Tell your doctor if you have any medical conditions including recent surgery, pre-existing hernia, and any known sensitivities or allergies.
During the procedure you may experience sensations of pulling, tugging, mild pinching, intense cold, tingling, stinging, aching, and cramping at the treatment site. These sensations subside as the area becomes numb. Following the procedure, typical side effects include temporary redness, swelling, blanching, bruising, firmness, tingling, stinging, tenderness, cramping, aching, itching, or skin sensitivity, and sensation of fullness in the back of the throat after submental or submandibular area treatment.
Rare side effects may also occur. CoolSculpting® may cause a visible enlargement in the treated area which may develop two to five months after treatment and requires surgical intervention for correction.
Please visit coolsculpting.com for full Important Safety Information
Related Posts